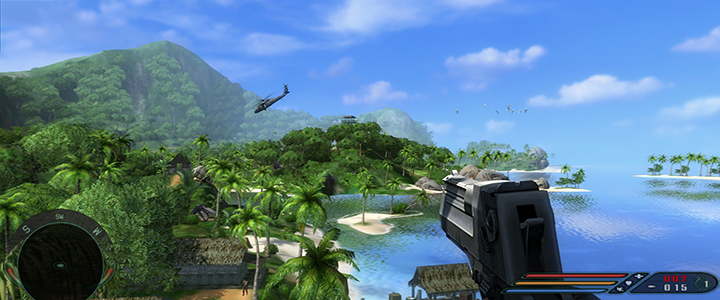 Far Cry series is one of the favorites of every gamer out there. However, not every gamer gets to play a game just after it's released. Now you know Far Cry 1 was released in 2004, yet some gamers including me gets the chance of play it after many years later.
You get the Far Cry 1 setup and install it on your computer. Not sure how to install Far Cry 1, here's a video showing you how to do that.
Okay, after the Far Cry 1 installation you feel this happiness 🎇 exploding inside you. Now you click on the Far Cry 1 exe. Woh! the game runs fine, you won the first battle you worried. Right? Then you go further and start the game. Intro plays just perfectly fine and you enjoy the beginning scene of Far Cry 1 really 🙌 calm …
Everything went okay. Right?
Well it didn't!! That's why you're here, Right? Just after the awesome Far Cry intro, when the game starts at the bunker you get nervous thinking,
Something is off with that Far Cry graphic!
Your nightmare became 💀 true when the Jack woke up. Everything around Jack looks like a blue fog. You can't see what's there or there. Everything looks like a white terrain filled with 👻 blue smoke or snow.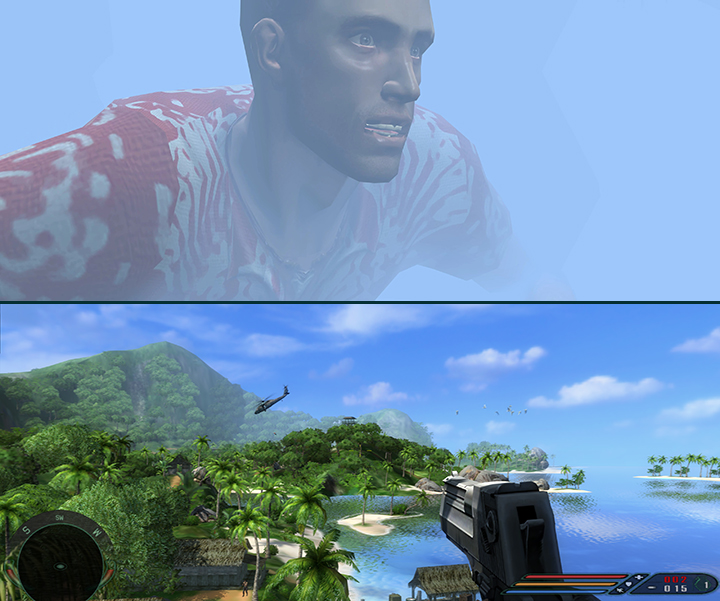 Now don't worry, this Far Cry 1 graphics problem can be fixed very quickly.
Funny Thing About Far Cry 1 Blue Fog Issue
Although Far Cry was released in 2004, I get my hands on this game like 2011 or 2012 to play myself. At that time I didn't have the Skorpion gaming PC. I only had my HP laptop which isn't built for gaming, yet I gave it a try.
I experienced the same things I said above for the very first time. What's funny is, I actually thought it's an issue of my laptop caused the Far Cry 1 graphics problem. My world didn't fell apart. I was just disappointed that Far Cry didn't look great.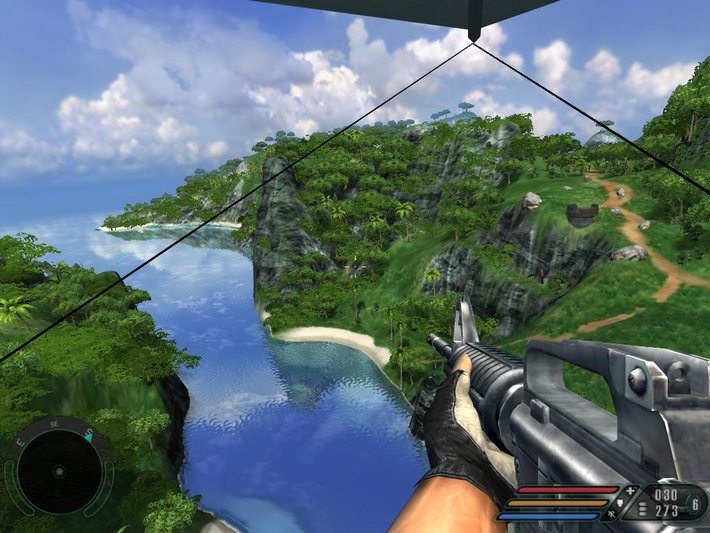 I didn't search for a solution at that time and started playing with blue fog everywhere. Somehow I played Far Cry 1 till its horror elements came to eat my flesh. Yeah, I'm talking about 🙉 Trigens.
I'm Not Giving It Up FCry
That was my first attempt to enjoy the game on Windows 7.
After I built my first Gaming PC, I started to play each and every game I missed due to bad graphical support in my previous laptops and PCs. Skorpion gaming PC can handle almost every game at their max settings. But Far Cry 1 threw me the same old crappy graphics this time and I didn't follow the same path as earlier.
It's clear that this blue fog issue is not due to my graphics. That lead me to find a working Far Cry 1 graphics problem fix which is what I'm going to show you guys in a moment. Later I found out there are multiple methods to fix the Far Cry blue fog render such as,
With Far Cry 1 Patch 1.4
Editing a system config file of the game
Using a 3D Analyzer
This time I installed Far Cry 1 on Windows 10 and worked great.
Far Cry 1 Graphics Problem Fix
This is the method I used myself to fix the problem and the one I'm going to show you now. Watch the video to find how Far Cry 1 was rendered Before & After the fix in a side-by-side comparison. Just follow what I did in the video and you'll soon be playing the Far Cry 1 without any annoying graphics problems.
Steps To Follow
Install it as you see in the video
Choose fair graphics settings for your PC
Play!
I heard some people say patch 1.4 didn't help them to fix it. If it's the case for you, then you have 3 other ways to fix it. I hope you won't have to try any other method as this is the best Far Cry 1 graphics problem fix worked for many people.
If you enjoyed this How To tutorial, then please Subscribe me at GamesTunnel YouTube channel. Want to join and stay tight with me, I'm available on Facebook, Google+ and Twitter. Thanks for reading and comment your idea, suggestions below.